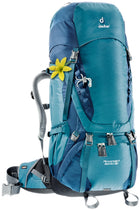 Start and End Dates must be business days. Call for rentals longer than 21 days.
Description
Although all the packs we offer are reasonably unisex in comfort, form and function, there are some anatomical differences between men and women (perhaps you've noticed) that pack makers try to accommodate. There are some slight angle and width differences in the shoulder straps and hip belts, and the torso on women-specific models tend to be a bit shorter. And not surprisingly, the colors are sometimes different. However, women are as likely to find a unisex one as comfortable as a women's specific, and buy accordingly.
If you do prefer women-specific models, we have them from Osprey and Deuter (Osprey Viva 50L. Kyte 56 and the Deuter Act Lite 60 SL are examples), similar but a bit smaller than those in our
men's medium capacity packs
. Large enough to carry any weight that most women can comfortably carry, and with enough capacity for a week or more of backpacking in the backcountry, or for a month of hostel travel in Europe. The rental rates are the same.  
The pack we send may vary from the photo, but be of comprable or better quality and function.
We'll of course ship this item you requested when available; if we happen to be out, we'll ship the equivalent unisex pack, unless you specify not to in the "comments box" you'll see during checkout. Also note that for men or women, a 50-liter pack might be too small for a fully self-sustaining trip (not sharing gear loads) unless you have light, compact gear.  Just give us a call at 866-994-4537 to ask any questions about the best backpack for your needs. For more information on backpacks, check out our
All About Backpacks
article.
Note - this item has a high volume-to-weight ratio - that is, it may be light, but it eats up a lot of box space. Shipments including this item often require a bigger box and is subject to a rate surcharge by UPS, so the effective shipping weight calculated at checkout is higher than the actual weight.
Minimum rental is 3 days
RATES
3 Days: $35

Days 4-21: $3
per day

For longer-term rentals, call for quote